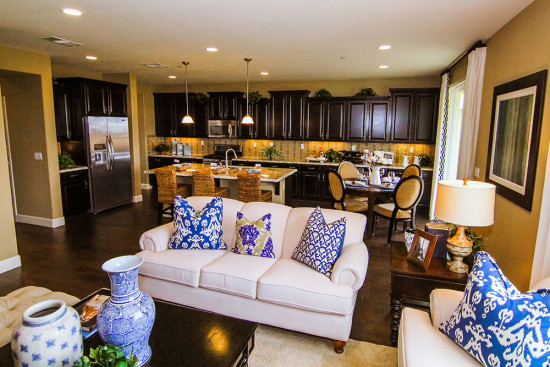 Start with a Free Consultation! Let our Houston listing agents at Pearl Partner Group take the reins and guide you through a successful home sale. We put our best foot forward right out of the gate to ensure the quickest sale for the highest return. We even guarantee it! Our knowledge on the selling process makes it easy. Our step by step plan guarantees a remarkable experience. When quality, professionalism and results matter, list your home with one of our agents. Get started today!
Find Your Home's Value
---
Staging
There is good reason why new home builders spend thousands of dollars decorating and staging model homes, because it sells homes! Home staging is one of the many services we may utilize in the marketing of our listings. Proper placement of furniture and arrangement of decor can create an emotional response to home buyers, prompting them to fall in love.
Professional Photos
The majority of home buyers begin their home search online in today's market. Curb appeal is great, but if the search begins online, your curb appeal is actually the photos on the MLS. Professional photos are becoming the norm and if you don't have it, you are at a disadvantage. Quality pictures are everything and Pearl Partner Group will showcase your home in the best lighting possible, the spot light, of course!
Virtual Tour
Just like our professional photography, a virtual tour could be the tool that sells your home online. Our custom videos are shared on our Youtube channel and then disbursed through all of our social media outlets.
Open Houses
Open houses are sometimes a topic of controversy. Pearl Partner Group does not require that you let us do an open house for your home listing but we absolutely offer to host them. We would love the opportunity to discuss with you your desires and what would be the best plan of action for getting your home sold fast and for top dollar.
Internet
Web presence is extremely important when showcasing your home to potential home buyers. Pearl Partner Group gets your home listing on 100's of websites across the internet. Your home can be seen on Zillow, Trulia, Homes.com and all of the major real estate broker websites. When you list with us, you will also become a Featured Property on our website and Home Page. This highlights your home's listing so it is sure to be seen by all of our website visitors.
Social Media
Social Media is another outlet we utilize and take full advantage of, adding exposure for your home. Our Houston REALTORS® are internet savvy and keep up with the latest technologies. Whether it is Instagram, Facebook, LinkedIn, Youtube and beyond, we get the word out. Who knows, maybe one of our Twitter followers will want to buy your home.
Advertising
Strategically placed ads get you the most exposure for your home's listing. Using Google ads, distributing print flyers and targeted Facebook ads are just some of the ways we put our marketing dollars to work for you.
MLS
The Multiple Listing Service (MLS) is a cooperative amongst real estate brokers to share home listings. By placing your home on the MLS, it is essentially seen by thousands of REALTORS® who may have a client looking for a home just like yours. Finding that home buyer could be like finding a needle in a haystack. Listing on the MLS is a great way to broadcast your home for sale and be seen by home buyers everywhere.

Contact Us Today!
832-303-0847 or contact@PearlPG.com
Don't waste another minute. We'd love to hear from you!